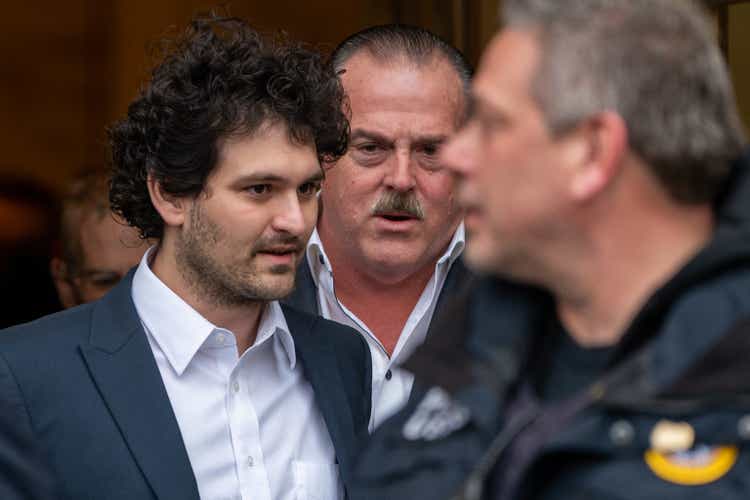 Silvergate Capital (NYSE:SI) stock has dropped 15% in Friday premarket trading after a media report that the Department of Justice is investigating the crypto-focused bank's business with collapsed crypto firms FTX and Alameda Research.
The criminal probe is looking into accounts tied to Sam Bankman-Fried's businesses, Bloomberg reported, citing people familiar with the matter.
The inquiry into Silvergate (SI) comes as legislators and investors ask: How much did banks and intermediaries that did business with Bankman-Fried's companies know about what the SEC and DOJ have called a years-long scheme to defraud customers and investors?
The DOJ hasn't alleged any wrongdoing, and the investigation, now in its early stages, could conclude without charges being brought, Bloomberg said. Silvergate (SI) did not immediately respond to a request for comment from Seeking Alpha.
Last month, a bipartisan group of U.S. senators accused Silvergate (SI) of providing "evasive and incomplete" answers in their 2022 inquiry into the matter. "Both Congress and the public need and deserve the information necessary to understand Silvergate's (SI) role in FTX's fraudulent collapse," they said in a letter to the bank.
Early in January, Silvergate (SI) disclosed that it bolstered its balance sheet with $4.3B of short-term advances from the Federal Home Loan Bank, which was created in 1932 to support mortgage lending.
In the past six months, Silvergate's (SI) stock price has plunged 78% after digital asset customers withdrew deposits from the bank in the wake of the FTX collapse and subsequent drop in crypto asset prices.
See why SA contributor Chris DeMuth Jr. has no sympathy for Silvergate.
#Silvergate #stock #sinks #report #DOJ #probe #FTX #Alameda #ties #NYSESI