REITs made a strong start to the quarterly earnings season, having finished 6.51% higher this week from the year-end, outperforming the broader S&P 500 index that ended the week 4.16% higher from the end of December 2022.
Infrastructure was the biggest driver, having finished 10.22% higher from the end of 2022. Data center followed, having gained 8.76% in value.
Data center REITs have been one of the best-performing property sectors over the past quarter as property-level fundamentals have strengthened despite an expected downshift in cloud-related spending, according to an analysis from Seeking Alpha.
Timber, comparatively, was a laggard, having finished merely 2.97% higher from the year-end. Here is a look at the performance of the subsectors: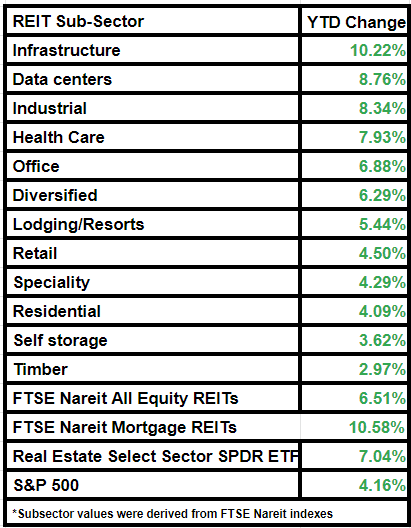 Equity REIT returns saw the steepest decline in 2022 since the great financial crisis, with the FTSE Nareit All Equity REITs index decreasing by 27.46% in value in 2022.
Higher interest rates and a potential recession seem to be already priced into REIT stocks.
However, the REIT market size is expected to grow by a CAGR of 2.8% between 2022 and 2027, with the drivers being an increase in global demand for warehousing and storage facilities, growing residential sector and increasing support from the government, according to a recent report.
#REITs #strong #start #quarterly #earnings #season