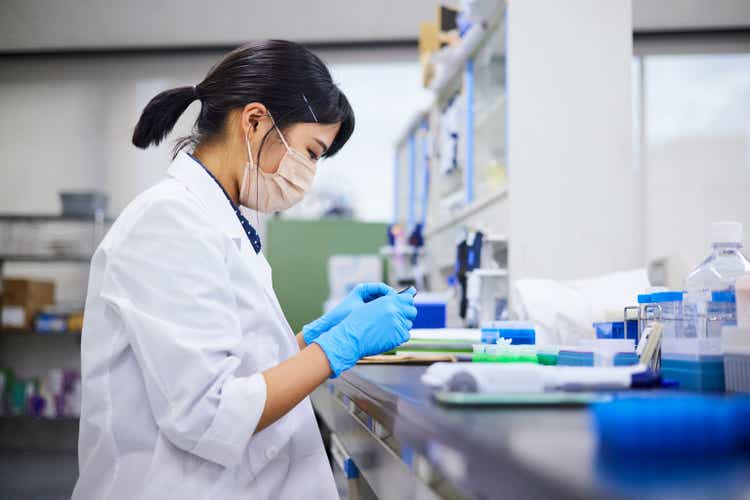 A record $138B was invested by the 15 largest pharmaceutical companies for R&D in 2022, a staggering 43% increase since 2017, according to an IQVIA report.
That $138B accounted for ~19% of these companies' overall sales.
IQVIA also found that although biopharma investment flows among life sciences companies declined in 2020 and 2021 as a result of the COVID-19 pandemic, they returned to pre-pandemic levels in 2022.
While U.S. biopharma companies saw funding fall 39% in 2022 compared to 2021, it was still 25% higher than in 2019.
On the deal-making front, although pharma deals declined 25% from 2021 to 2022, there was an increase in the number of transactions involving emerging biopharma with larger companies.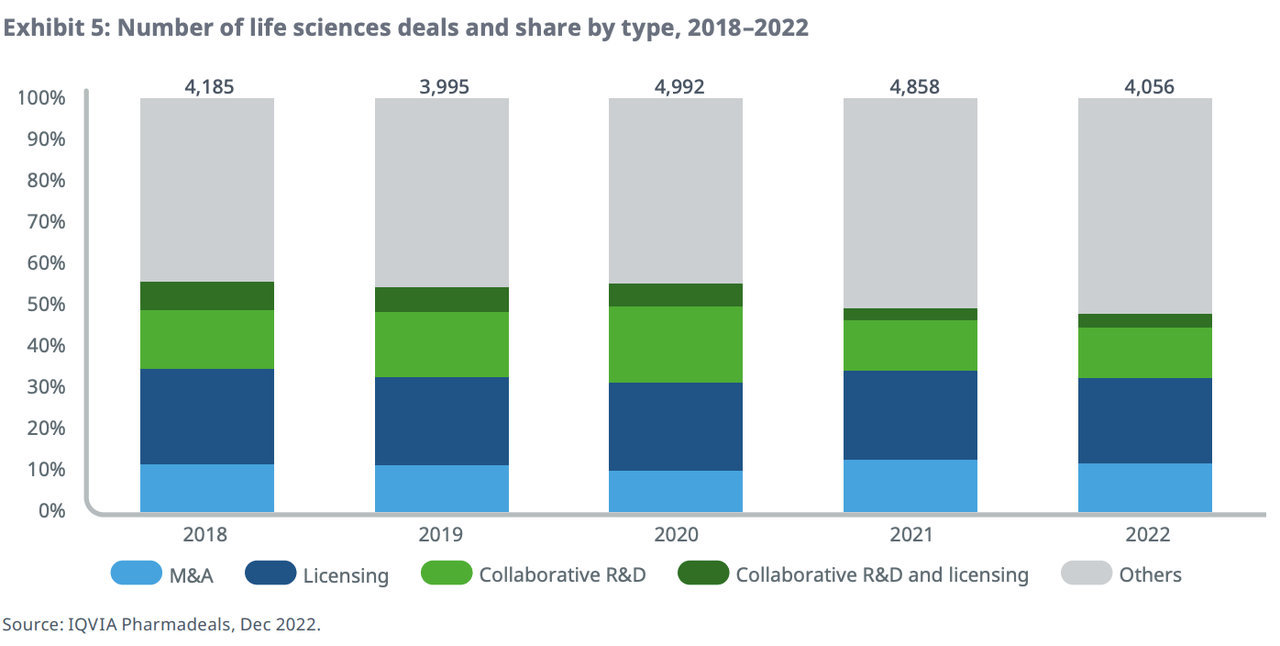 IQVIA said there were 483 M&A deals announced in 2022, down from 615 in 2021. However, the 2022 figure was around the number as seen in 2018.
R&D Pipelines
In 2022, 6,147 drug candidates were in development from phase 1 through to regulatory submissions. Pipelines have grown at a compound annual growth rate ("CAGR") of 8.3% from 2018-2022.
Oncology candidates make up 38% of pipeline candidates and have been growing at a CAGR of 10.5% over the last five years. IQVIA noted that the growth in oncology has come due to a focus in the last few years on therapies for large tumors that address large populations.
Among large pharmas, AstraZeneca (AZN), Bristol-Myers Squibb (BMY), Merck (NYSE:MRK), and Pfizer (NYSE:PFE) have the largest cancer pipelines. Roche (OTCQX:RHHBY), Novartis (NVS), Johnson & Johnson (NYSE:JNJ), and Amgen aren't far behind. AbbVie (NYSE:ABBV) has many early-stage candidates.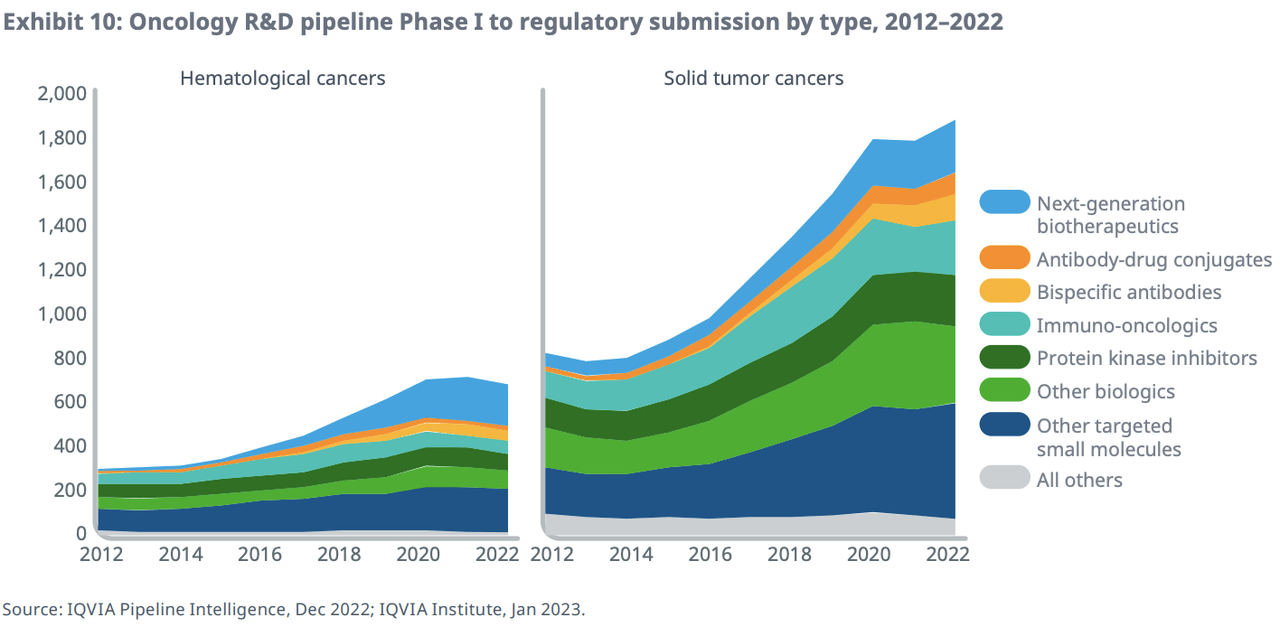 Neurology represents 11% of pipelines, with much of that on treatments for Alzheimer's and Parkinson's diseases (127 and 96 products, respectively), though depression and other mental health conditions are also seeing greater representation in recent years.
Companies with late-stage Alzheimer's assets include Cassava Sciences (SAVA) and Anavex Life Sciences (AVXL). Neurocrine Biosciences (NBIX) and Acadia Pharmaceuticals (ACAD) also have strong pipelines in, respectively, neurology/psychiatric diseases and central nervous system disorders.
About 30% of pipeline development is related to rare diseases, and half of this number are for diseases other than cancer.
Although U.S. companies still dominate R&D pipelines with a 46% share in 2022, Chinese companies are getting into the action more. In 2022, they accounted for 20% of candidates, up from just 5% a decade earlier.
Clinical Trial Activity
Even with COVID impacting clinical trials into 2022, there was only a 1% decline in activity between 2022 and 2021 for non-COVID trials. However, activity in 2022 still was 8% higher than in 2019.
The beginning of oncology trials reached an all-time high in 2022, up 22% from 2018. They were focused mostly on rare cancer indications.
Trials for depression treatments in 2022 were 68% higher compared to before the pandemic. About 25% of depression trial starts in 2022 involved psychedelic treatments.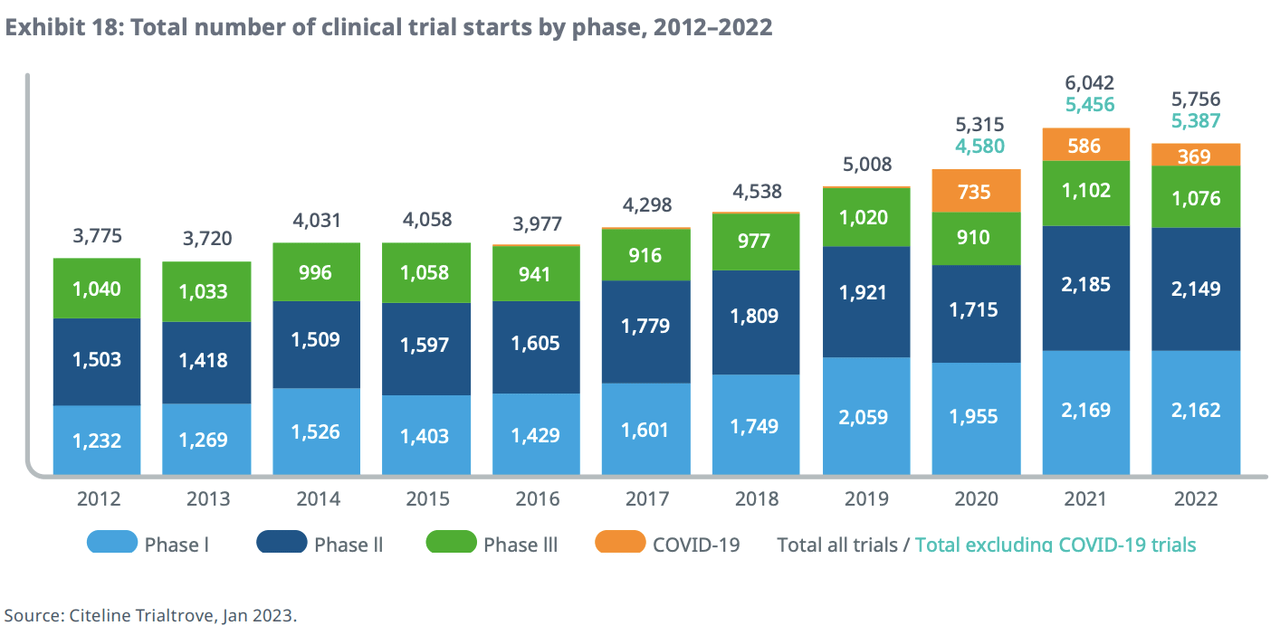 The success of mRNA-based COVID vaccines from Pfizer (PFE)/BioNTech (BNTX) and Moderna (MRNA) has spurred a major uptick in mRNA vaccine development. Although the mRNA pipeline is dominated by COVID, flu, and respiratory vaccines, there is also development for other infectious disease.
In 2022, there were five cancer mRNA vaccines in development, a figure that hasn't changed much since 2017.
#Pharma #funding #soared #record #oncology #candidates #dominate #pipelines