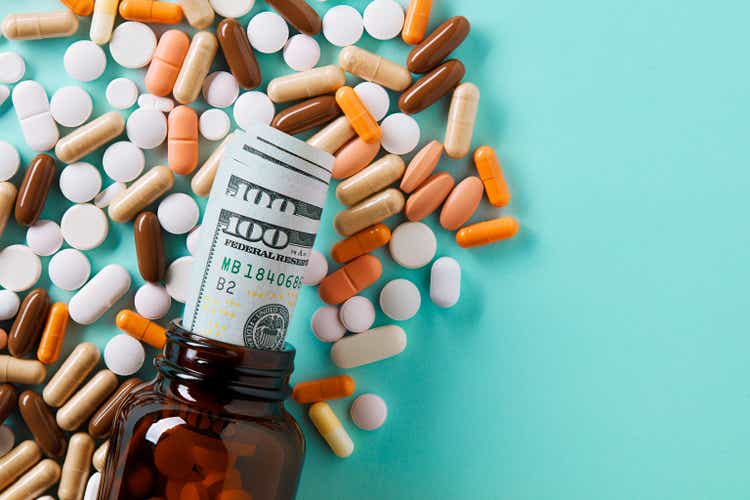 Pharma companies have started 2023 with a bang, raising prices of about 450 medications this month, and more price hikes are expected, according to 46brooklyn Research, a non-profit related to healthcare research firm 3 Axis Advisors.
Antonio Ciaccia, Chief Executive Officer of 46brooklyn, said that the 450 increases in wholesale acquisition cost (WAC) or list prices so far this month make up only about a quarter of the total number of hikes expected for this year. WAC is the manufacturers' price for wholesales or direct buyers and is not as same as the out-of-pocket prices the consumers pay.
"It is definitely too early to make any broad statements about how 2023 compares with prior years, as there is just so much more activity that we expect to see before the end of the month," Ciaccia told drug management journal Formulary Watch.
However, the rate of price hikes has moderated this year compared to last amid the implementation of the Inflation Reduction Act, which took effect on Jan. 01, requiring drugmakers to pay rebates on certain Medicare Part B drugs if their price increases exceed inflation.
The landmark law also permits for the first time the Health and Human Services (HHS) Secretary to negotiate prices for Part B and Part D drugs covered under Medicare, with revised prices for the first ten drugs taking effect in 2026.
According to 46brooklyn data, the overall weighted average of WAC price increases based on Medicaid utilization stands at only 1.3% for all drugs in 2023, compared to the 5.1% rise in 2022. In 2022, drugmakers raised prices for over 1,400 medications, the most since 2015, with a median increase of 4.9%, roughly in line with the 2023 median of 5.0%, which stands below the industry bar of 10%.
Pfizer takes the lead: According to a Reuters analysis of 46brooklyn data, Pfizer (NYSE:PFE) has announced the most price increases this year, raising prices of more than 80 unique brand drugs and ten other brands at its Hospira subsidiary.
That included a 6.0% rise for JAK inhibitor Xeljanz (tofacitinib) and a 7.9% increase for oral cancer medications, Ibrance (palbociclib) and Xalkori (crizotinib).
A Pfizer (PFE) spokesperson said that this year the company's average list prices for all medicines and vaccines were subject to a ~3.6% adjustment which stood below the inflation. "The modest increase is necessary to support investments that allow us to continue to discover and deliver new medicines as well as address increased costs throughout our business," the spokesperson added.
GSK (NYSE:GSK) came in second, increasing prices for 26 unique drugs, including a 6.9% hike for its shingles vaccine Shingrix.
The analysis from 46brooklyn indicates that Omnipaque (iohexol), a radiographic contrast medium, witnessed the biggest percentage list price increase this year as its maker GE HealthCare (NASDAQ:GEHC), introduced a 26.8% rise, which Ciaccia said could be due to supply constraints.
"While it's tough to pinpoint exact reasons for these types of swings, we know that Omnipaque has had a number of supply challenges over the past year," he said, adding, "in the face of increased demand amid a prolonged period of shortages, it doesn't surprise me that prices go up in an effort to fill the void."
Prices of diabetes drugs increased: Other notable price hikes include a 4.9% for Novo Nordisk's (NVO) (OTCPK:NONOF) diabetes injection Ozempic (semaglutide) and a 5.0% rise for Mounjaro (tirzepatide) and Trulicity (dulaglutide), its rivals Eli Lilly (LLY) markets. The treatments, some of which can also target obesity, are currently in short supply for several drug forms due to rising demand.
Meanwhile, Sanofi (SNY) (OTCPK:SNYNF) has decided to increase the price of its insulin injection Lantus by 3%. This week, California sued three drugmakers, including Sanofi (SNY), and three pharmacy benefit managers accusing them of overcharging for insulin.
Notably, Amneal Pharmaceuticals (NYSE:AMRX) introduced the biggest percentage decline, slashing the price of its multiple sclerosis therapy Lyvispah (baclofen) by 70.2% this month.
The 9.0% hike Bristol Myers Squibb (BMY) implemented for its costly CAR T-cell therapies Abecma (idecabtagene vicleucel) and Breyanzi (lisocabtagene maraleucel) also stands out.
The price hike, the first since their market launches in early 2021, brings "them to list prices comparable with other available CAR-T therapies in the market," a company spokesperson said. However, Bristol Myers (BMY) expects its portfolio to reflect mostly flat U.S. net prices ­– which include discounts and rebates – in 2023.
Ciaccia said that while the 5.9% price increase for Gilead's HIV therapy Biktarvy was not the largest, it could have the biggest impact on healthcare expenditure this year if the rebates, discounts, and other concessions Gilead (GILD) offers don't keep up with the price increase.
He pointed out that Biktarvy, a widely prescribed medicine, accounted for more than $500M in gross Medicaid spend in 2022 and more than $1.7B of gross Medicare spend in 2020.
Meanwhile, AbbVie (ABBV) has raised the price of its blockbuster rheumatoid arthritis therapy Humira by ~8.0% even as health insurers prepare for the end of its U.S. market exclusivity this year, treating its copycat versions at the same level as the branded version.
#Pfizer #AbbVie #GSK #Eli #Lilly #among #drugmakers #raise #prices #NYSEPFE