Nick Kyrgios has announced that he will not be contesting the 2023 Australian Open, owing to a knee injury. The Aussie was scheduled to play Russia's Roman Safiullin in the first round of the tournament on Tuesday, January 17, but made the unfortunate statement just a day prior on Monday.
In his declaration at a press conference, the 2022 Australian Open men's doubles winner stated that he was "extremely disappointed" by the situation and conveyed that having to withdraw from his home tournament was a bitter pill to swallow.
"Obviously extremely disappointed," Nick Kyrgios said, "I'm just exhausted from everything, and obviously pretty brutal. One of the most important tournaments of my career. It hasn't been easy at all."
Nick Kyrgios further revealed that he was very intent on making a deep run at the 2023 Australian Open and that the injury had come at a bad time.
"I always wanted to just do everything right and train right and tick every box, and just be ready for the Oz Open," the 27-year-old said, "I'm devastated obviously. It's like my home tournament. I've had some great memories here. Obviously last year winning the title in doubles and playing the best tennis of my life probably. Then going into this event as one of the favorites, it's brutal."
He voiced that he is determined to bounce back, similar to his best mate and doubles partner Thanasi Kokkinakis.
"This coming around is just bad timing. But that's life. Injury is a part of the sport. I guess I can draw some inspiration from someone like Thanasi who has had a bunch of injuries and has bounced back," Kyrgios added.
The 2022 Wimbledon runner-up also revealed that he borrowed as much time as he could to assess the injury, but his recent practice with Thanasi Kokkinakis proved to be the last straw that pushed him to make the tough decision.
"I had some hope. But, you know, after today, I hit with Thanasi, someone who's playing the way he's playing, and he pushed me around the court a little bit. That was more of a realistic type, a hit of the intensity that was coming. It was easier to make the call today," he said.
---
"We used the match against Novak Djokovic as a gauge to see if he could compete at that highest level" – Nick Kyrgios' physio dives deep into Aussie's injury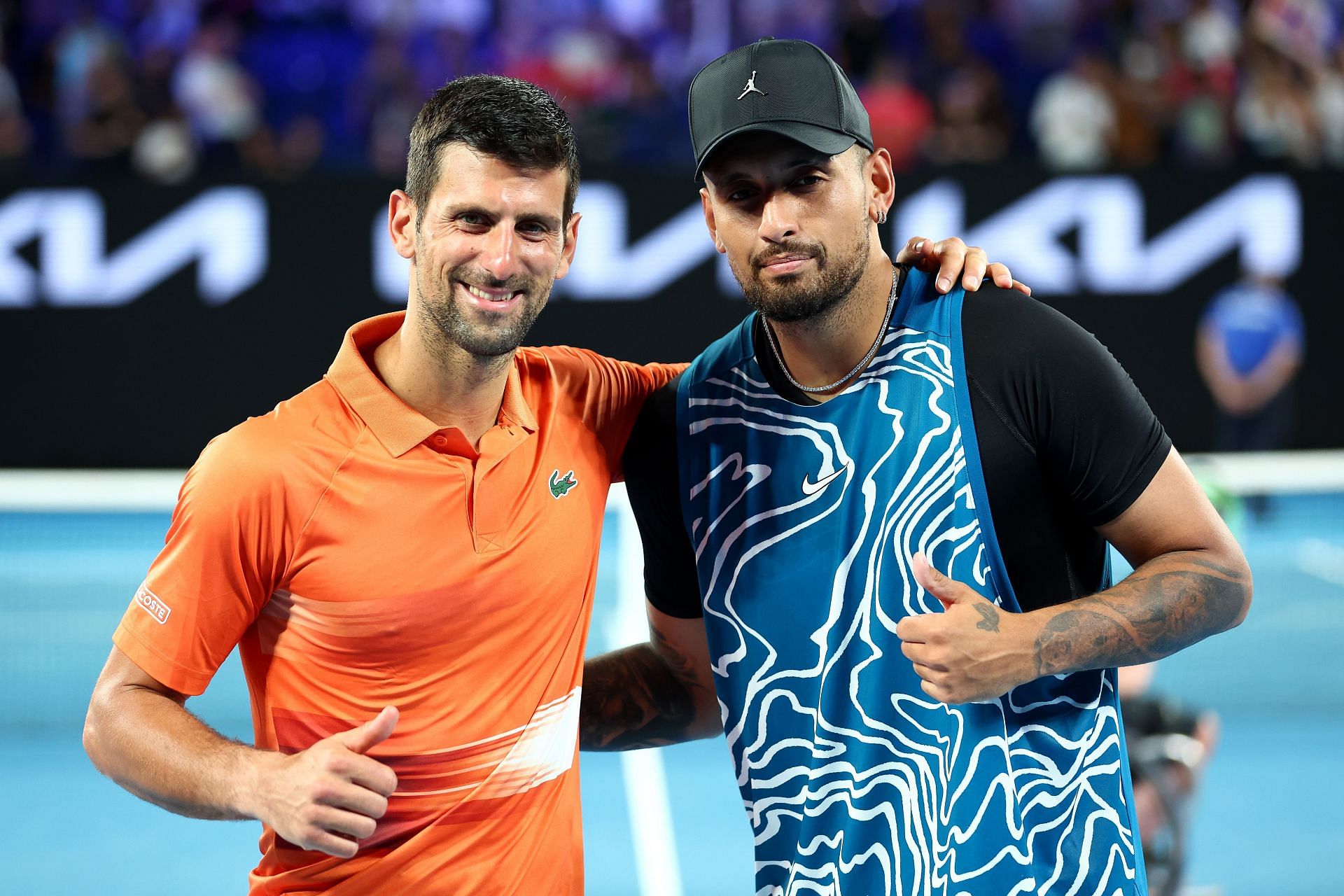 In the same press conference, Nick Kyrgios' physio Will Maher explained that the Aussie's participation at "The Arena Showdown" against Novak Djokovic on January 13, was used to understand the severity of his knee situation and make the right decision.
"We've made the sensible decision to withdraw him," Maher said, "We used the match, the charity event against Novak, as a gauge to see if he could compete at that highest level. He didn't pull up great."
Nick Kyrgios' physio further explained that the World No. 21 will be fit to compete at the Indian Wells Masters but will have to undergo a knee procedure in Canberra to effectively deal with the situation.
"There's a parameniscal cyst growing in his left meniscus, which is the result of a small tear in his lateral meniscus," Maher said, "He'll have an arthroscopic procedure to clean up his lateral meniscus and remove the paralabral cyst. From there it's a relatively straightforward recovery through February for him, and very realistic to be back on the court for Indian Wells."
Rafael Nadal's outfit for Australian Open 2023 revealed
Edited by Siddharth Dhananjay

#Nick #Kyrgios #devastated #Australian #Open #withdrawal #reveals #waited #long #making #decision