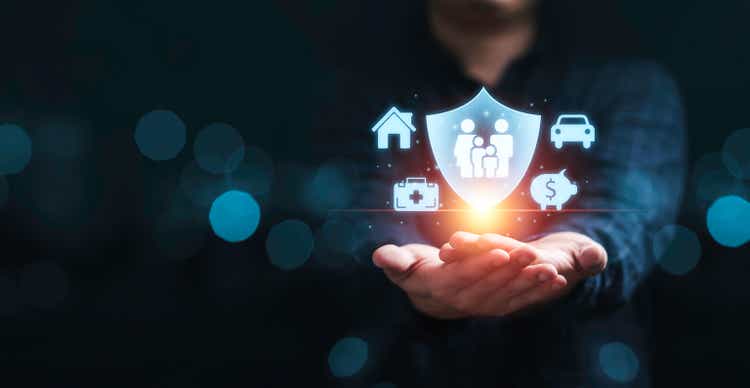 The broad insurance industry is increasingly implementing digitalization to meet consumer expectations, as more than 40% of U.S. consumers last year went online or used an app when scouting for life insurance products, according to a recent TransUnion (NYSE:TRU) survey.
The finding represents a "significant shift" because most consumers traditionally bought their life insurance policies through an agent, as per the online survey, which examined the views of 2,907 adults during Oct. 20-28 of last year.
In response to the demand for digital experiences, insurers are streamlining some cumbersome processes such as underwriting. For example, by leveraging medical data and credit-based scores, life insurers can now offer a basic quote and eliminate the need for in-person home visits or testing.
This is where InsurTech startups, such as Lemonade (LMND) and Root (ROOT), seek to disrupt the traditional way of providing insurance.
Still, the survey found 34% of consumers do not have a life insurance policy, the top reason being that they don't believe they need one. That's prompting insurers to become more sophisticated with their marketing efforts by creating direct-to-consumer brands that properly portray their value proposition and enhance agent-driven sales, TransUnion said.
Commercial insurers are facing a similar supply-demand mismatch. Some 91% of survey respondents said they would be willing to get a quote online for commercial insurance, while only 28% have actually done so, representing a "huge opportunity for companies willing to invest in a more streamlined and automated process," TransUnion said.
Furthermore, against a backdrop of higher interest rates and persistent inflation, two-thirds of respondents reported their rates increased. The insurer's quest for profits, though, risks driving customers away to shop for lower premiums.
"Rate increases are only going to carry companies so far toward profitability, and customers are increasingly at their limits," said Mark McElroy, executive vice president and head of TransUnion's insurance business. "Creating opportunities to provide customers efficient quoting and underwriting, in addition to valuable coverage packages, is one of the best alternative strategies to a better bottom line."
For context, insurers' underwriting profit is based on how much they can generate in premiums versus paying out as claims, i.e., the loss ratio. Investors typically look at an insurer's combined ratio to determine the level of underwriting profitability. The lower the ratio the better. For example, Chubb (NYSE:CB) posted stronger-than-expected Q3 results as its combined ratio slipped to 93.1% from 93.4% in the year-ago quarter.
Related stocks for life insurers include Brighthouse Financial (NASDAQ:BHF), MetLife (NYSE:MET), Prudential Financial (NYSE:PRU), Lincoln National (NYSE:LNC), Manulife Financial (NYSE:MFC), Sun Life Financial (NYSE:SLF), Principal Financial Group (NASDAQ:PFG), Aegon N.V. (NYSE:AEG) and Voya Financial (NYSE:VOYA).
Property & casualty insurance stocks include: American International Group (NYSE:AIG), Aflac (NYSE:AFL), Trisura Group (OTCPK:TRRSF), Travelers Companies (NYSE:TRV), Chubb (CB), Allstate (NYSE:ALL), Hartford Financial Services Group (NYSE:HIG), Aon (NYSE:AON), Marsh & McLennan Companies (NYSE:MMC), Cincinnati Financial (NASDAQ:CINF) and Progressive (NYSE:PGR).
For life and health insurance stocks, American Equity Investment Life (AEL) comes out on top in the SA stock screener. For P&C and reinsurance, Reinsurance Group of America (RGA) ranks highest.
Across the wider insurance ecosystem, Seeking Alpha's Quant system singled out American Equity Investment Life (AEL) as the most preferred stock in the space.
#U.S #consumers #shop #life #insurance #online #undermining #agents