Read
CoinChapter.com
on
Google News
PATNA (CoinChapter.com) — Polygon's in-house token, MATIC, enjoyed quite a bullish start to 2023. MATIC price spiked over 41% since Jan 1's low of $0.747 to form a daily high of $1.05 on Jan 14.
However, it seems bears have started selling to profit off the recent uptrend, with MATIC price dropping 5.3% to form a daily low near $0.954. Moreover, the sudden reversal caused Polygon's relative strength index to pull back from the overbought region.
RSI for MATIC rose above the overbought threshold of 70 on Jan 13. Traders often consider overbought RSI levels a sign of impending bearish trend reversal and a sell signal. However, MATIC painted one more green candle on Jan 14 before succumbing to the bearish pressure.
Moreover, Jan 14's gains saw Polygon rise above $1 for the first time since the FTX fiasco hit the market, though the token pared gains later in the day.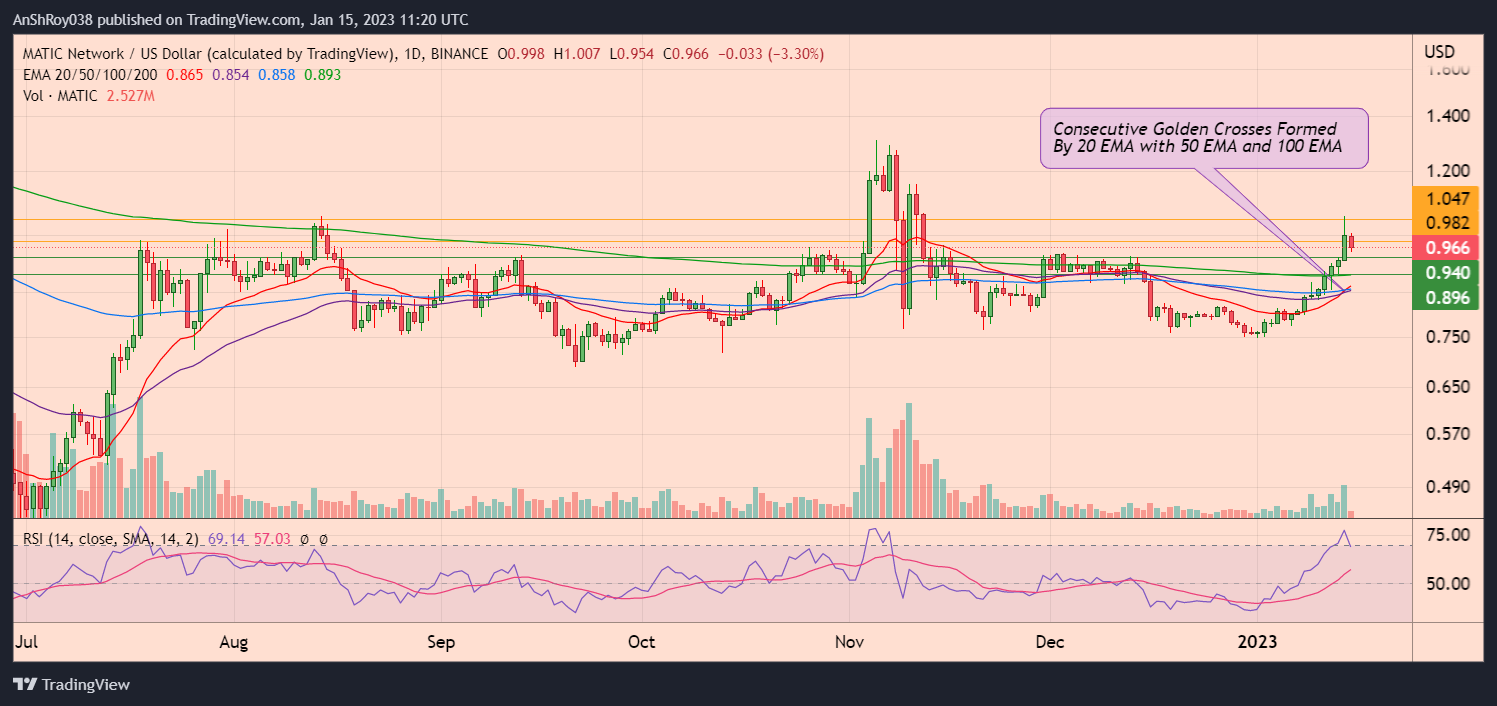 If the selloff continues, MATIC price might drop to test support near $0.94, which previously acted as resistance for Polygon price between Nov 13, 2022, and Jan 13, 2023. Furthermore, failure of immediate support might result in MATIC falling to support from its 200-day EMA (green wave) near $0.89.
MATIC Forms Subsequent Golden Crosses
On the other hand, Polygon's recent price action helped its 20-day EMA (red wave) needle above its 50-day EMA (purple wave) and 100-day EMA (blue wave), forming two subsequent golden crosses. In detail, a golden cross is a bullish chart pattern that traders often consider a buy signal.
Also Read: Janet Yellen Warns US Dangerously Close To Debt Limit, Plans "Extraordinary Measures"
Furthermore, the 50-day EMA seems poised to needle above Polygon's 100-day EMA to form another golden cross, attracting buyers to the market.
Buyers entering the market might help MATIC price challenge resistance near $0.98. A break and hold above immediate resistance could help the Polygon token target the psychologically vital $1 resistance before downside corrections pare gains.
Polygon Hard Fork Aimed At Reducing Gas Fee Spikes Coming On Jan 17
Polygon, the Ethereum Layer-2 scaling solution, announced it would undergo a hard fork on Jan 17 at Block >= 38,189,056. The hard fork would aim to minimize spikes in gas fees and chain reorganization issues.
Polygon claimed the hard fork would help improve user experience on its Proof-of-Stake (PoS) chain. Moreover, the decision to implement a hard fork came after an intense discussion on the Polygon Improvement Program forum page in Dec 2022.
Also Read: Another Crypto Lender Bites The Dust. NEXO Office Raided By Bulgarian Police
The hard fork would help reduce gas fee spikes by changing the "BaseFeeChangeDenominator" from 8 to 16. Polygon developers stated the larger value would help smoothen the increase or decrease rate in baseFee for conditions for "when the gas exceeds or falls below the target gas limits in a block."
Increasing the denominator would help flatten the growth curve, ensuring a smoother gas fee increase or decrease.
The hard fork would also decrease the sprint length from 64 to 16 blocks. The shorter length would help a single block producer produce blocks continuously for a much shorter time.
The post MATIC Spikes 41% In Jan But Bears Move In As Polygon Approaches Hard Fork Date appeared first on CoinChapter.

#MATIC #Spikes #Jan #Bears #Move #Polygon #Approaches #Hard #Fork #Date