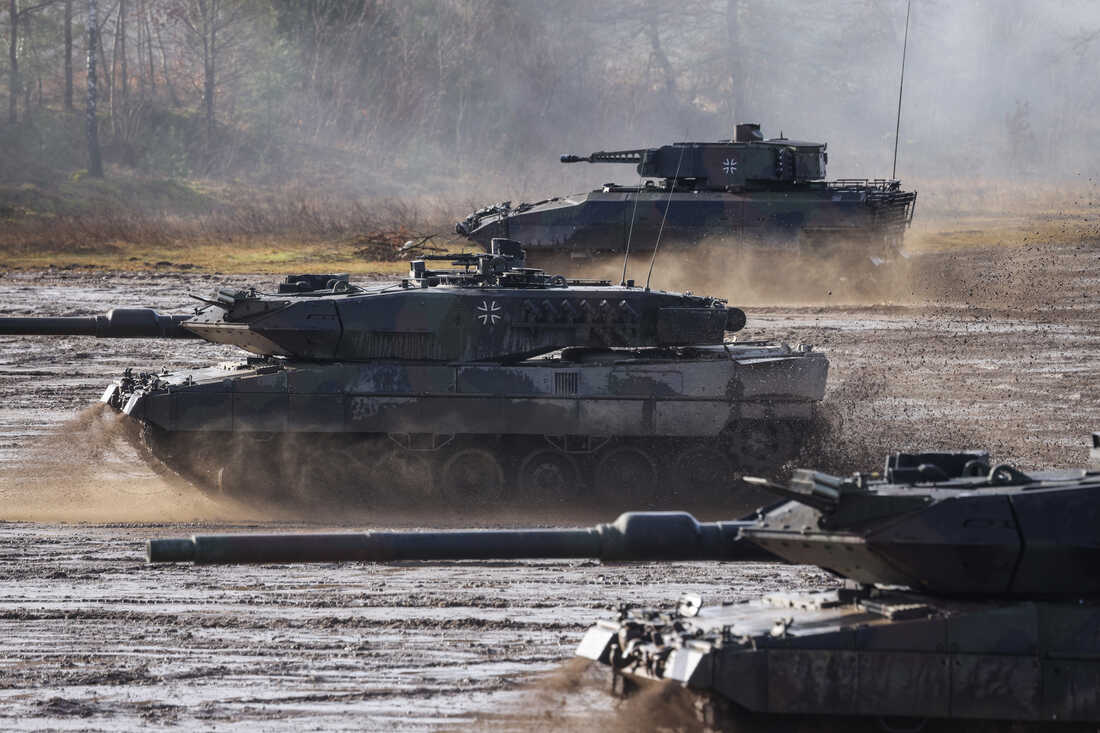 BERLIN — Western defense officials on Friday continued to pressure Germany to allow the export of its sophisticated Leopard 2 tanks to Ukraine. Ukrainian allies — and its military benefactors — are meeting at Ramstein Air Base in Germany to coordinate the latest round of weapons transfers.
But thus far, Germany has not agreed to release its heavy battle tanks, and it has prevented others from releasing Leopard tanks they've previously purchased from Germany.
As the meeting opened, officials noted the urgency, while refraining from calling out Germany directly.
"This is a crucial moment," U.S. Defense Secretary Lloyd Austin said. "Russia is regrouping, recruiting, and trying to re-equip. This is not a moment to slow down. It's a time to dig deeper."
Last week, Polish President Andrzej Duda said his country would transfer Leopard 2 tanks to Ukraine and Finnish President Sauli Niinistö also indicated her country was prepared to supply Kyiv with the tanks.
German weapons companies manufacture the Leopard 2, and the German government legally has the final say over how and where the tanks are used, even when other countries are offering to export them.
German Chancellor Olaf Scholz has repeatedly refused to give the go-ahead for his country or others to export Leopard tanks to Ukraine, saying Western tanks should only be supplied to Kyiv if there is agreement among key allies. That is what other nations hope to accomplish at this meeting.
Berlin is also hesitant to supply arms that would enable Kyiv to carry out attacks on Russian soil or that could potentially draw NATO into a broader conflict with Moscow. Scholz has asserted throughout the more than 10-month Russian invasion of Ukraine that Germany is already one of Ukraine's biggest financial supporters.
"Germany will not go it alone, Germany will act together with its allies and especially with our transatlantic partner, the U.S. Anything else would be irresponsible in such a dangerous situation," the chancellor said at an event sponsored by his center-left Social Democratic Party on Jan. 9 in Berlin.
Ukraine has been requesting more heavy weaponry as its leaders and security analysts warn that Russia's planning for a fresh, more intense offensive against Ukrainian troops.
For months, public opinion in Germany has backed up Scholz's refusal to send heavy weaponry to Ukraine. But according to the latest Forsa survey from this week, German public support for supplying battle tanks to Ukraine grew to its highest level ever: 46% of those polled are in favor of delivering Leopard tanks and the same percentage is against it.
The Pentagon announced on Thursday its latest military aid package for Ukraine. The package, valued at $2.5 billion, includes 90 Stryker combat vehicles, 59 Bradley fighting vehicles and hundreds of thousands of rounds of ammunition, but no tanks. This latest announcement brings total U.S. military assistance to Ukraine to $26.7 billion.
Meanwhile, the defense ministers of Estonia, the United Kingdom, Poland, Latvia and Lithuania, as well as representatives from Denmark, the Czech Republic, the Netherlands and Slovakia also met on Thursday "to reaffirm our continued determination and resolve to supporting Ukraine in their heroic resistance against the illegal and unprovoked Russian aggression."
The group, having formed the "Tallinn Pledge," committed to "collectively pursuing delivery of an unprecedented set of donations including main battle tanks, heavy artillery, air defence, ammunition, and infantry fighting vehicles to Ukraine's defence."
On Friday, Kremlin spokesperson Dmitry Peskov repeated warnings that additional Western arms merely prolonged Ukraine's suffering — and said deepening Western military aid risked an "upward spiral" into direct conflict between Russian and NATO forces.
"We see a devotion to the dramatic delusion that Ukraine can succeed on the battlefield," Peskov said. "This is a dramatic delusion of the Western community that will more than once be cause for regret. We are sure of that."

#Germany #facing #growing #pressure #send #Leopard #tanks #Ukraine #NPR