Ethereum price has formed a bearish flag pattern on the four-hour chart.

The next key catalysts will be the Fed statement, NFP data, and consumer inflation numbers.

ETH could crash to the next support level at $1,500.
Ethereum price remained in a consolidation phase in the past few days as investors brace for its defining moment. ETH was trading at $1,566, where it has been in the past few days. This price is significantly lower than the year-to-date high of $1,747. 
Key market events
The next two weeks will be important for the future of cryptocurrencies and other financial assets like stocks and bonds. That's because of the key events that will happen from a macro perspective. On Tuesday, Jerome Powell, the Federal Reserve chair will testify before congress, where he is expected to make a case for more rate hikes in a bid to calm the elevated inflation.
The other important data will come out on Friday, when the US will publish the latest non-farm payrolls (NFP) data. Economists expect the data to show that economy added more than 200k jobs in February. This report will be an important one considering that the previous on caught many investors by surprise as the economy added over 500k jobs.
Therefore, a strong jobs report means that the Fed has room for more interest rate hikes. It will signal that employers are still adding jobs, which is doing good thing for the economy. 
The other catalyst for Ethereum prices will be next week's consumer price index (CPI) data scheduled for next week. Economists expect the data to show that consumer prices remained at an elevated level, even as they pulled back below 6%.
Take together, these numbers will signal what the Fed needs to do going forward. Signs of more tightening will mean that the recent ETH price rally has faded and that it could move to retest its lowest points in 2022. 
ETH price will also react to the upcoming Shanghai upgrade and the ongoing collapse of Silvergate Capital. Silvergate is a company that provides banking solutions for mostly crypto companies like FTX.
Ethereum price prediction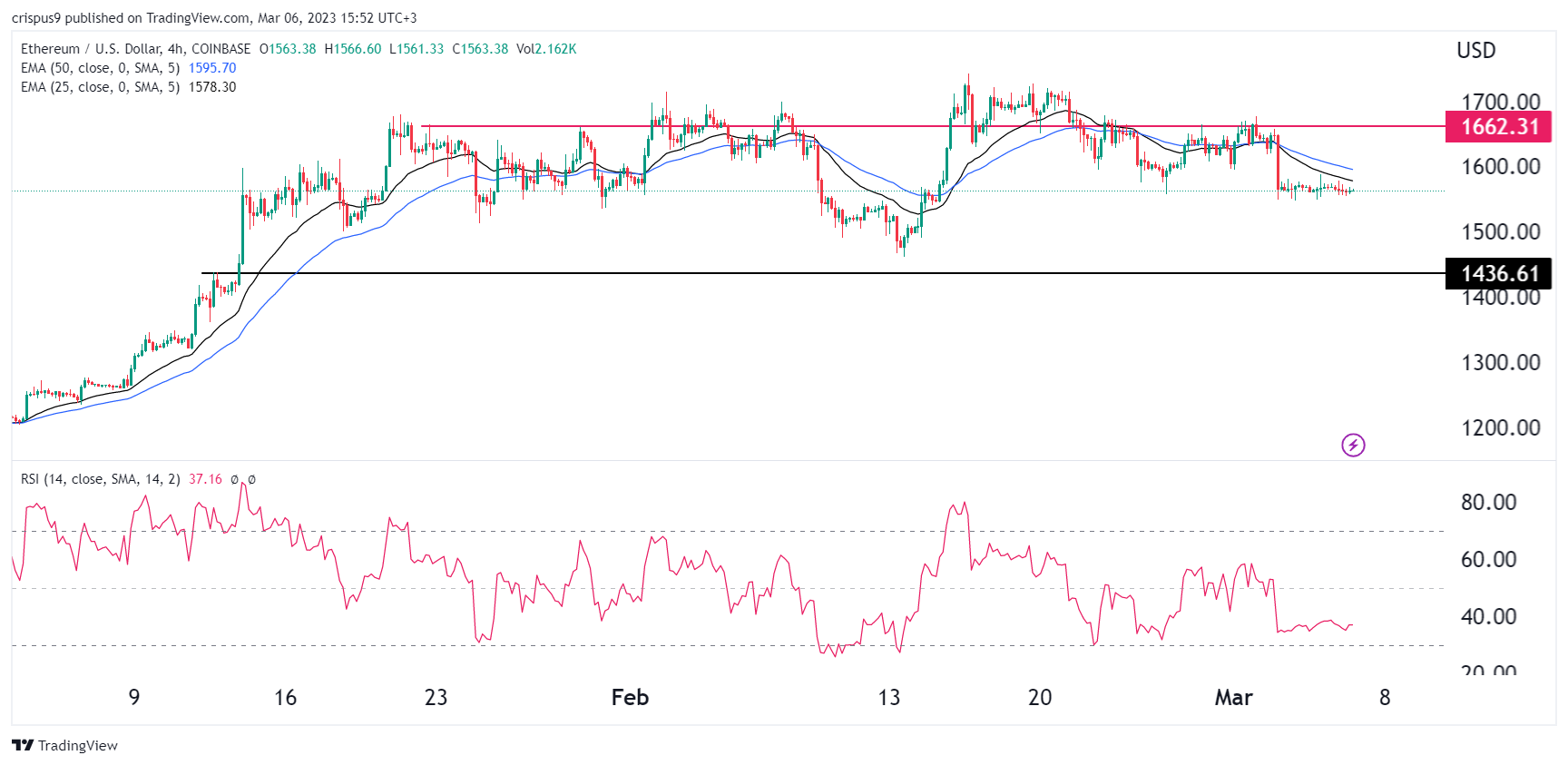 The 4H chart is not looking good for ETH prices. For one, the coin has formed a bearish flag pattern, which is usually a bearish sign. It has collapsed below the 25-day and 50-day moving averages while the Relative Strength Index (RSI) has moved sideways. Before that, Ethereum has found a strong resistance level at about $1,700.
Therefore, my view is that Ethereum will likely continue falling as sellers target the key support at $1,500 followed by $1,436. 
How to buy ETH
eToro
eToro offers a wide range of cryptos, such as Bitcoin, XRP and others, alongside crypto/fiat and crypto/crypto pairs. eToro users can connect with, learn from, and copy or get copied by other users.
Buy ETH with eToro today

Public
Public is an investing platform that allows you to invest stocks, ETFs, crypto, and alternative assets like fine art and collectibles—all in one place.
Buy ETH with Public today

#Ethereum #price #forms #bearish #flag #ahead #pivotal #week