Read
CoinChapter.com
on
Google News
YEREVAN (CoinChapter.com) – Metaverse token Decentraland (MANA) has rallied a whopping 150% since the start of the year and was trading at $0.69 on Jan 16. MANA's success most likely followed Bitcoin's 30% surge. However, the charts showed a possible cool-off ahead, or even a reversal, based on an 'overbought' momentum oscillator.
Decentraland at Local Peak?
As mentioned, MANA followed Bitcoin's bullish lead. Thus, if the flagship crypto shows signs of a reversal in the upcoming sessions, altcoins will likely comply with the sentiment.
MANA charts printed several warning signs as well. For example, the daily chart below demonstrates that the relative strength index (RSI) has entered the 'overbought' territory. In short, the RSI is a momentum indicator that serves as a gouge for the best market entry and exit points.
Traders typically construe the oscillator's drop below its 'normal' 30-70 range as a BUY sign and move in.
Conversely, when the RSI elevates above 70, it flashes a warning sign, deeming the asset 'overbought.' Traders looking for additional oscillator cues could interpret MANA's 86 RSI as a good time to take profit.
Also read: MATIC Spikes 41% In Jan But Bears Move In As Polygon Approaches Hard Fork Date.
Moreover, trading volumes already show a lack of enthusiasm among investors, as Decentraland printed a red candle after a three-day buying FOMO.
Potential targets for MANA
A closer look at the four-hour chart revealed several potential short-term targets for the Decentraland token. First, if the MANA price complies with the selloff fears and drops further, the next possible support would stand at $0.63, 7% lower than the current value. Incidentally, the level represents a former resistance at the last leg up.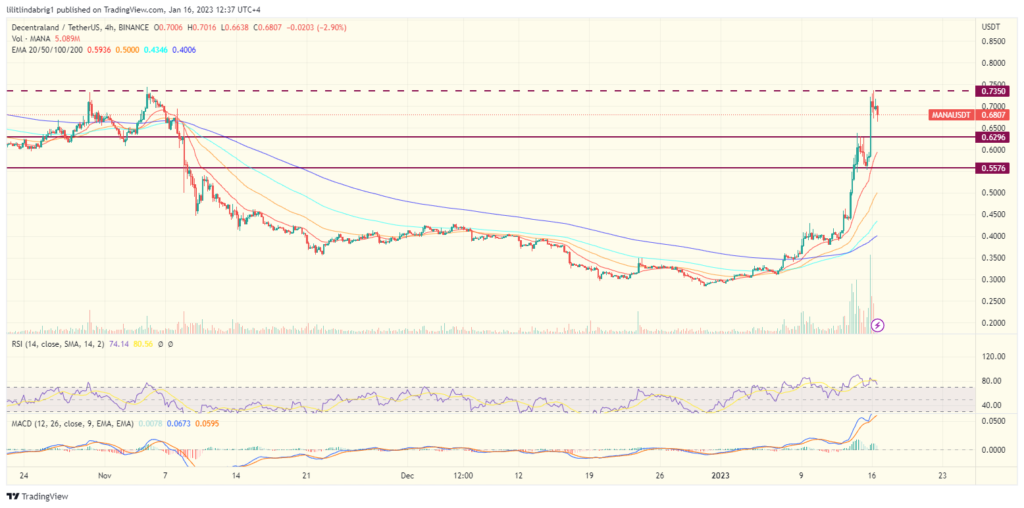 If MANA fails to hold the support at $0.63, the next possible assistance might come from $0.55. However, an upside target is worth mentioningif MANA bulls double down in the upcoming sessions.
Also read: Janet Yellen Warns US Dangerously Close To Debt Limit, Plans "extraordinary Measures."
If Decentraland investors take the MANA token for another leg up, the target price will stand at the fresh peak of $0.73. In the best possible outcome, the Decentraland token could reclaim the said level, retest it as support, and move up to $0.82, another former resistance. However, judging by the dropping trading volumes, MANA investors are not yet ready for another push.
Click here to keep up with the ever-changing crypto market and never miss the scoop!
The post Decentraland Has Rallied 150% in 2023 — But MANA Selloff Fears Intensify appeared first on CoinChapter.
#Decentraland #Rallied #MANA #Selloff #Fears #Intensify