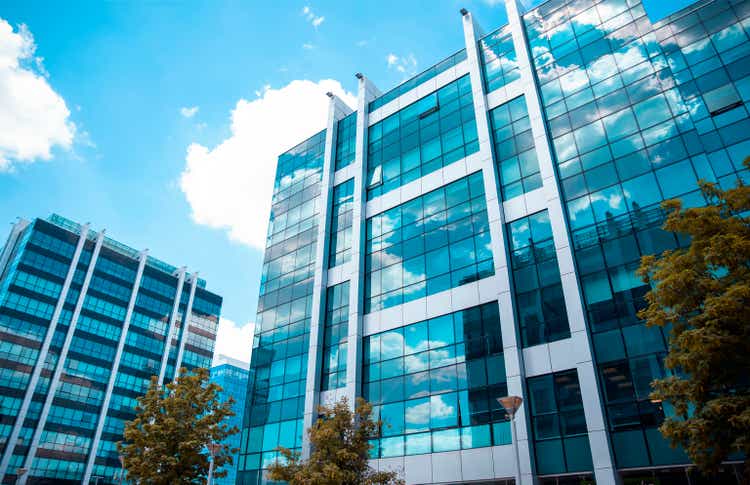 CBRE (NYSE:CBRE) expects commercial real estate deal activity in 2023 to shrink 15% Y/Y, weighed by rising interest rates, a looming recession and less credit availability.
Some market participants expect a mild recession, a view echoed by JPMorgan Chase in its earnings call. However, others forecast a deeper-than-expected recession later in the year, with Jefferies expecting one in Q3.
Commercial real estate investment volume will likely increase once interest rates and economic conditions stabilize in H2 2023, CBRE said.
The real estate services firm's 2023 U.S. Investor Intentions Survey found that ~60% of respondents expect to buy less real estate in 2023, and just 15% expect to purchase more. Almost half the respondents expect to reduce real estate acquisitions by over 10%.
Given a decline in market pricing, investors are hesitant to sell assets, with 60% of respondents saying they will either sell less or not sell at all. Only 27% expect to sell the same amount as last year.
The most attractive commercial real estate continues to be multifamily (apartment complexes) and industrial (led by modern logistics facilities). While grocery-anchored centers are favored by retail investors, office investors prefer class A assets in prime locations. The high-performing Sun Belt markets continue to remain attractive.
The survey also found that more investors are looking to take advantage of the market downturn by adopting opportunistic and distressed strategies. Most respondents expect discounts of up to 30% across sectors, with shopping malls and value-add office assets likely to offer the greatest.
Interestingly, ~70% of respondents expect no change in fund allocations to real estate from last year.
Take a look at PIMCO's outlook for commercial real estate.
#Commercial #real #estate #deal #activity #shrink #recession #looms #CBRE