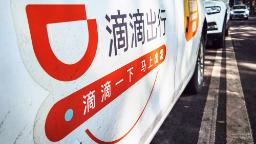 Hong Kong
CNN
 — 

Ride-hailing giant Didi received approval to resume new user registration in China, it said Monday, providing more evidence that Beijing's regulatory crackdown on tech giants might be coming to an end.
The move is the latest sign that regulators are loosening the reins on the country's beleaguered tech companies in a bid to spur economic growth.
"For more than a year, our company has cooperated with the government's cybersecurity review, seriously dealt with the security issues found in the review, and carried out a comprehensive rectification," Didi said in a statement posted on its Weibo account.
With the approval of the Cybersecurity Review Office, Didi will be able to resume adding new users "immediately," it added.
Didi is a poster child for Beijing's years-long crackdown on its tech companies. Just days after its $4.4 billion IPO on Wall Street in June 2021, regulators banned Didi from app stores in mainland China and launched an investigation into its handling of customer data.
They accused Didi of breaking privacy laws and posing cybersecurity risks. Their actions were also widely seen as punishment for the company's decision to go public overseas instead of in China.
The regulatory actions wiped tens of billions of dollars from Didi's market capitalization and hit its domestic business. Under pressure from Beijing, Didi announced in late 2021 that it would start the process of delisting from the New York Stock Exchange and pivot to Hong Kong.
Last July, China's cyberspace regulator fined Didi just over 8 billion yuan ($1.2 billion) for violating cybersecurity and data laws.
The lifting of a ban on new users comes after Beijing signaled the softening of its stance on the country's tech industry. Earlier this month, a top official said the government's crackdown on the fintech operations of more than a dozen internet companies was "basically" over.
That remark came on the same day Chinese billionaire Jack Ma gave up control of Ant Group after the fintech giant's shareholders agreed to restructure its business.
China's crackdown on its biggest tech companies began in 2020 with new regulations on fintech, which forced Ma's Ant Group to suspend its $37 billion IPO days before its launch. Regulators then targeted a number of other tech giants, including Tencent, Meituan and Didi.
But the Chinese economy is faltering because of the country's stringent Covid restrictions, which ended in early December, and a historic property downturn. Policymakers have pledged to go all out this year to save the economy, betting on the private sector to bolster growth and boost domestic demand.
#China #Didi #resume #signing #users #tech #crackdown #eases